If you didn't see the first part, here it is.
The Dreamers (2003)
"Yes, I'm drunk. And you're beautiful. And tomorrow morning, I'll be sober but you'll still be beautiful."
Spring of 1968, Paris. A movie of an innocent American boy who discovers the strange Europeans ways.
Pretty Woman (1990)
A 90s Cinderella story. Turning a tough subject that is prostitution into a romantic comedy. The retro lighting, Los Angeles, and beautiful clothes always captivate my mind.
Almost Famous (2000)
"Honey, you're too sweet for rock 'n' roll"
Since I can remember I've always liked the "name" Penny Lane. I always thought I was a Penny Lane looking for her Beatle. I've always wanted to be someone muse and inspiration.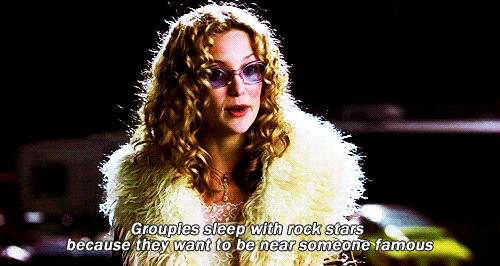 Dazed and Confused (1993)
Title inspired by the song of the amazing band Led Zeppelin. Retro vibes, amazing clothing and hairstyles and a quote that will always be stuck in my head.
"Let me tell you this, the older you do get the more rules they're gonna try to get you to follow. You just gotta keep livin' man. L-I-V-I-N."
Yeah, it's kind of a lame quote but the way he says it makes me laugh.
Girl, Interrupted (1998)
Two of my all-time girl crushes, Angelina and Winona. Eccentric, wild girls who are in a psychiatric institution. What the movie transmits to me is that perfectly sane people, like Susana, can become institutionalized simply because one they're inside the system there is the assumption that something must be wrong with them.